Federal agents accused of behaving like an occupying army were expected to begin pulling out of central Portland, Oregon, on Thursday in an embarrassing climbdown by the White House.
But on Wednesday night the forces that have been dubbed by some as "Trump's troops" made it clear they did not intend to leave quietly.
The Department of Homeland Security paramilitaries guarding the federal courthouse in downtown Portland that has become the focus of protests fired teargas, projectiles and stun grenades into the early hours of Thursday morning against hundreds of demonstrators.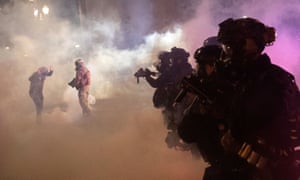 Some protesters turned out to proclaim victory over the paramilitaries sent to the city by the US president.
The federal agents then drove the demonstrators back several blocks in a stronger use of force than other recent nights, and made more…