Donald Trump and his election rival Joe Biden struck a temporary ceasefire but avoided crossing paths on Friday as they joined millions of Americans in commemorating the 19th anniversary of the September 11 terrorist attacks that killed a total of almost 3,000 people in New York, Washington and Pennsylvania.
This year the rituals of remembrance were different and the tragedy was marked as another continues to unfold: the coronavirus pandemic has cost 191,000 American lives – the equivalent of a 9/11 for 64 consecutive days.
Along with persistent, undiminished grief, there was also wistfulness for the sense of national unity that 9/11 produced – unity that now seems distant and elusive in a bitterly divided country barreling towards a presidential election in less than two months.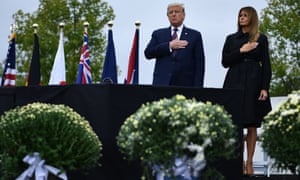 Past 9/11 anniversaries in an election year have often…