A nudist bather who chased a wild boar near a Berlin lake after it stole his laptop was applauded by onlookers after a successful pursuit.
The photographer who captured the drama said the unidentified nudist was happy for her to share the images, which show him in bare-bottomed pursuit of the boar and her two piglets while fellow bathers look on in amusement.
"Nature strikes back," wrote Adele Landauer, a personal coach, on Facebook. "I showed the man the photos, he laughed heartily and gave me permission to make them public."
The man was sunbathing naked at the Teufelssee in west Berlin, a popular and perfectly legal practice in the German capital as part of what is known as FKK, or Freikörperkultur (free body culture).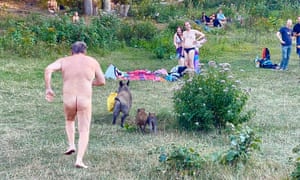 The wild boar, sightings of which have become increasingly common, had apparently spotted a pizza being eaten by other bathers. It seized a…